Comprehensive strategy. Creative execution.
Since 2010, our focus has been solely on activating buildings and neighborhoods through creative execution and proper preparation.

As the only transaction and advisory firm in the Greater Boston area doing so, we employ strategic planning, development, architectural, leasing and project management strategies to amenity, retail, and hospitality spaces.
By maximizing the amenity potential and ultimately boosting NOI of their properties, our clients receive tangible benefits that surpass target projections and position them above and beyond their competition.
Our Goal
To increase client real estate asset value by creating a built environment that people want to live, work and play in.
Client benefits
Landlords
Increase NOI by $1.1 Mil per year.

Securing best-in-class operators that make people want to live, work, and play at the place we're helping to create.
Tenants
Secure leases for iconic real estate with primarily landlord-funded build-outs and rent as a % of sales deal structure.

Routinely developing places with the highest sales volume opportunities in the market.
Advisory Services
Increase value of building by roughly $9.9 Mil or more
Investors
Flip assets for a 203% premium within 18 months
Our Clients
We specialize in placing the best businesses in the best locations. From local startups to international retailers, small corner bistros to buzz-worthy new concepts, our roster of perpetual clients is truly extraordinary.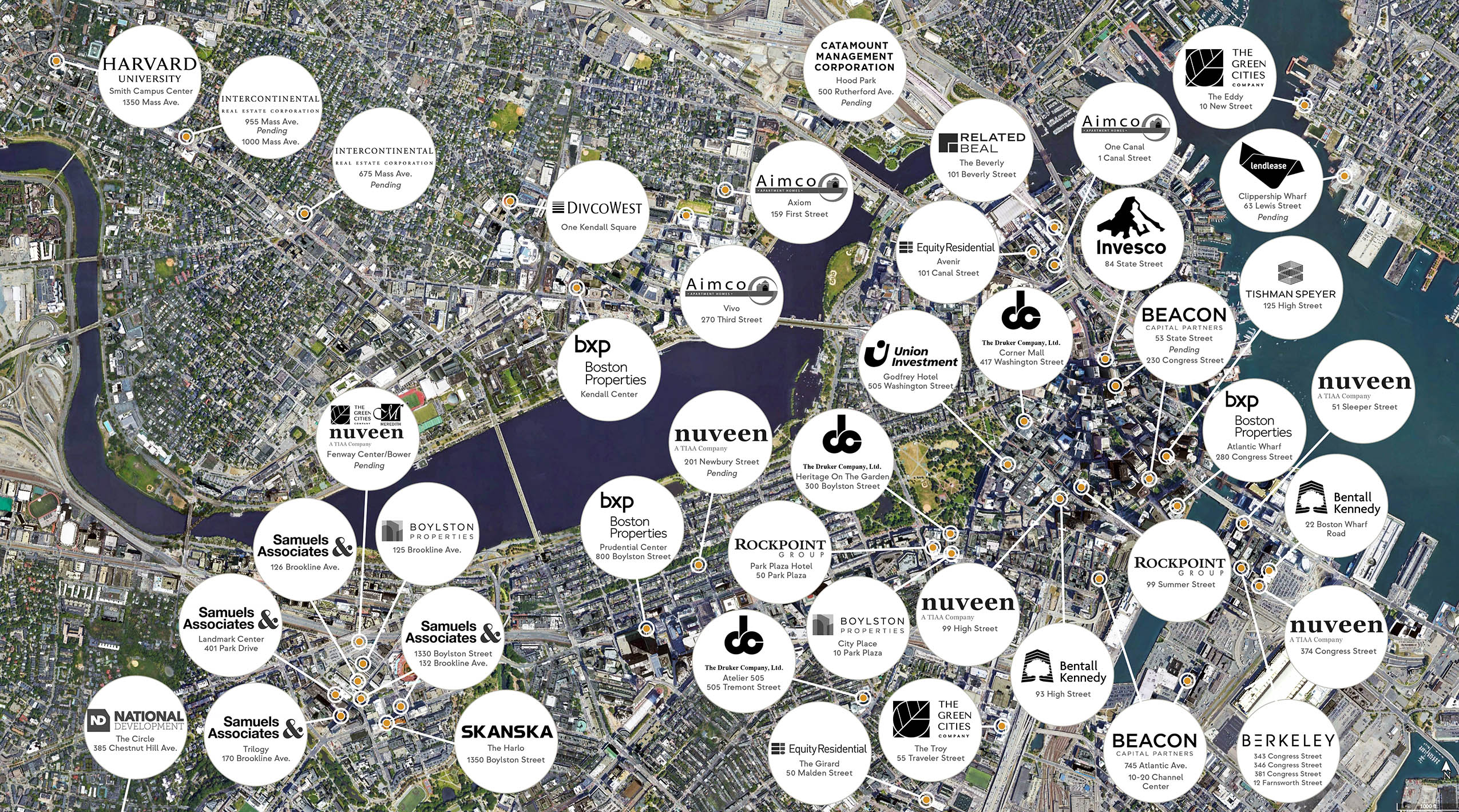 1 Canal St

One Canal

159 First St

Axiom

270 Third St

Vivo
53 State St

Pending

745 Atlantic Ave

10-20 Channel Center

230 Congress St
93 High St

22 Boston Wharf Rd
343 Congress St

346 Congress St

381 Congress St

12 Farnsworth St
355 Main St

Kendall Center

800 Boylston St

Prudential Center

280 Congress St

Atlantic Wharf
121 Brookline Ave

Fenway Marriott Residence Inn

10 Park Plaza

City Place
Catamount Management Corporation
500 Rutherford Ave

Hood Park

Pending
101 Canal St

Avenir

50 Malden St

The Girard
1250 Mass Ave

Smith Campus Center
675 Mass Ave

Pending

955 Mass Ave

Pending

1000 Mass Ave
63 Lewis St

Clippership Wharf

Pending
771-775 Beacon St Boston

Fenway Center / Bower

Pending
385 Chestnut Hill Ave

The Circle
201 Newbury St

Pending

99 High St

Fenway Center / Bower

Pending

374 Congress St

51 Sleeper St
101 Beverly St

The Beverly
50 Park Plaza

Boston Park Plaza Hotel

99 Summer St
401 Park Drive

Landmark Center

170 Brookline Ave

Trilogy

132 Brookline Ave

126 Brookline Ave

1330 Boylston St
1350 Boylston St

The Harlo
417 Washington St

Corner Mall

300 Boylston St

Heritage On The Garden

505 Tremont St

Atelier 505
55 Traveler St

The Troy

Fenway Center / Bower

Pending

10 New St

The Eddy
505 Washington St

Godfrey Hotel